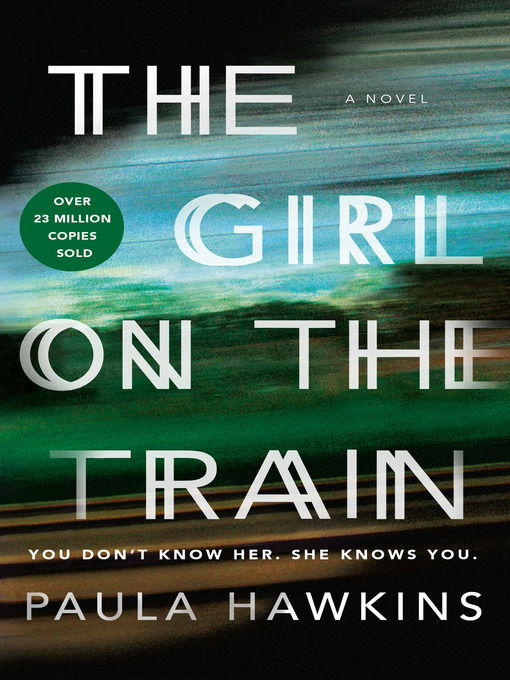 The Girl on the Train
eBook - 2015

Three women, three men, connected through marriage or infidelity. Each is to blame for something. But only one is a killer in this nail-biting, stealthy psychological thriller about human frailty and obsession.
Just what goes on in the houses you pass by every day?
Rachel takes the same commuter train every morning and evening, rattling over the same junctions, flashing past the same townhouses.The train stops at the same signal every day, and she sees the same couple, breakfasting on their roof terrace. Jason and Jess, as she calls them, seem so happy. Then one day Rachel sees someone new in their garden. Soon after, Rachel sees the woman she calls Jess on the news. Jess has disappeared.
Through the ensuing police investigation, Rachel is drawn deeper into the lives of the couple she learns are really Megan and Scott Hipwell. As she befriends Scott, Rachel pieces together what really happened the day Megan disappeared. But when Megan's body is found, Rachel finds herself the chief suspect in the case. Plunged into a world of betrayals, secrets and deceptions, Rachel must confront the facts about her own past and her own failed marriage.
A sinister and twisting story that will keep you guessing at every turn, The Girl on the Train is a high-speed chase for the truth.

From the Trade Paperback edition.
Searching for more content…
Publisher:
Doubleday Canada
---
Opinion
From the critics
---
Community Activity
Summary
Add a Summary
Enjoyed reading. Loved all the twists and turns of Rachel.
"Rachel Watson, the principal narrator of Hawkins's psychologically astute debut, is obsessed with her ex-husband, Tom. She's having a hard time putting the past behind her, especially since she confronts it daily, during the hourlong commute to London from her rented room in Ashbury, Oxfordshire, when her train passes the Victorian house she once shared with Tom. She also frequently spies an attractive couple, four doors down from her former home, who she imagines to be enjoying the happily-ever-after that eluded her. Then, suddenly, the woman, pixie-ish blonde Megan Hipwell, vanishes—only to turn up on the front page of the tabloids as missing. The police want to question Rachel, after Anna, Tom's new wife, tells them that Rachel was in the area drunkenly out of control around the time of Megan's disappearance. Hawkins, formerly deputy personal finance editor of the Times of London, deftly shifts between the accounts of the addled Rachel, as she desperately tries to remember what happened, Megan, and, eventually, Anna, for maximum suspense. The surprise-packed narratives hurtle toward a stunning climax, horrifying as a train wreck and just as riveting." Agent: Lizzy Kremer, David Higham Associates (U.K.). (Jan.)
[Page ]. Copyright 2014 PWxyz
Notices
Add Notices
Frightening or Intense Scenes: The culmination of the book has a particularly gruesome scene.
Explore Further
Recommendations
Subject Headings

Loading...